What is Naturalization?
Naturalization is the process of becoming a U.S. citizen when you are currently a lawful permanent resident. It is the main path to citizenship for individuals who were neither born in the United States nor born abroad to U.S. citizen parents—namely foreign citizens and nationals.
There are three ways to become a U.S. citizen:
Birth
Derivation/acquisition through a U.S. citizen parent
Naturalization
Who Can Apply for Naturalization?
According to USCIS, more than 90% of applicants are at least 18 years old and have been a permanent resident for the past 5 years and have no special circumstances. But even if you fall under that general categorization, the naturalization process can be complicated. Therefore, our first order of business when working as your citizenship lawyer is to ensure you are eligible to apply for naturalization. This includes: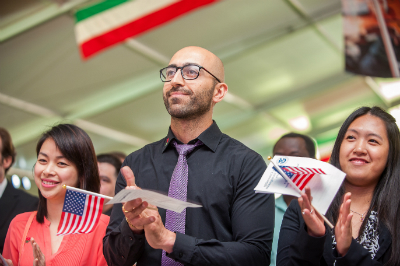 Green card holders who have been a permanent resident for at least 5 years
Green card holders married to U.S. citizens
Green card holders in the military and their family members
Children of U.S citizen parents
Not sure whether you are eligible to apply? Let's talk through your situation and options.
Contact us to discuss your case
How Shaftel Law can help with the Naturalization Process
For those seeking U.S. citizenship now or in the future, Shaftel Law can help you with:
Determining your eligibility for U.S. citizenship.
Guidance with issues and travel plans that could impact your naturalization process.
Guidance completing and submitting an accurate naturalization application.
Representation during the naturalization application process, including preparing you for and accompanying you to your citizenship interview.
When you hire Shaftel Law for the naturalization and citizenship process, we represent you from beginning to end. We prepare the required forms and gather the necessary documentation, but even more importantly, we schedule a final meeting one week before the naturalization interview to review your application and prepare you for the interview. Finally, we of course attend the interview with you to make sure that the officer understands any legal/eligibility issues and to address any issues that could arise during the course of the interview. As with all clients of our firm, you always have access to a lawyer once you hire us, so that you can have all of your questions and concerns quickly addressed during the process.
Steps to Naturalizing
It's important to thoroughly understand the naturalization process, because some applicants get overwhelmed by the process and submit an inaccurate or incomplete application that adds further complications. Because of our immigration expertise and experience, we can guide you through the process in the most efficient and cost effective way.
Typically, these are the steps to naturalizing:
We review your case to determine whether you are eligible for U.S. citizenship through naturalization.
We start the application process by preparing and filing Form N-400 and supporting documentation.
USCIS receives your application and sends you a request for fingerprinting to then conduct a criminal background check.
You begin preparing for the naturalization test, while awaiting notification from USCIS for an interview.
We accompany you at your naturalization interview to ensure the process goes as smoothly as possible.
USCIS is the prime resource for naturalization info and has great resources on its website on naturalization requirements, the naturalization test and study guides and naturalization ceremonies, or simply call us at (303) 872-6985 or contact us online to get started.
Why Hire an Immigration Lawyer for the Naturalization/Citizenship Process?
Why some individuals successfully apply for naturalization without hiring an attorney, others find out that they were not yet eligible for naturalization or run into serious problems that could have been avoided if they had consulted with an attorney. At a minimum, we recommend you always schedule a consultation with an attorney to evaluate your naturalization eligibility, then you can decide if you want an attorney for the whole process or not. After attending countless naturalization interviews over the years, we have come to realize that:
The Stakes are high. If you are in fact not eligible for naturalization due to criminal conduct, misrepresentations in earlier applications (such as your permanent resident application), or for other reason, not only will your naturalization application be denied, but you could risk being placed in immigration court and losing your green card.
Eligibility is more complicated than you might think. The physical presence requirements, abandonment of a green card based on prolonged absences from the U.S. (this can even be an issue with an reentry permit), prior marriages, and taxes are just some of the areas that can create problems for naturalization eligibility.
The N-400 form is more complicated than you might think. There are several questions on the form that are simply not that clear. If you answer a question incorrectly, you always run a risk that an immigration officer could find you willfully made a false statement or tried to conceal something. While most officers are reasonable when you correct your form and explain the basis for the mistake, the climate may change as the Trump administration beings to implement changes to USCIS.
USCIS' own practice and procedure constantly changes, and they do not always do a good job keeping the public informed. Form instructions and other instructions posted by USCIS are often contradictory or incomplete. It is our job, as immigration experts, to keep on top of all changes so that the applications we file are complete.
Even in the "cleanest" of cases, consulting an immigration attorney is helpful. Of course, if you have any eligibility concerns, criminal history, prolonged absences from the United States, or other concerns, you don't want to risk starting the naturalization and citizenship process without one. Want to discuss your case? Contact us today to start working through your options.
Flag Photo Credit: noshoesphotography Flickr via Compfight cc