Trump's Latest Executive Action Raises Nationality Discrimination to Frightening Levels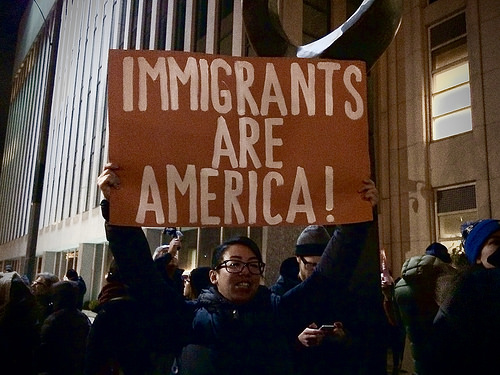 Trump's latest executive action, "Protecting the Nation From Foreign Terrorist Entry Into the United States", raises nationality discrimination to a largely unprecedented level. While we are not at "Japanese internment camp" levels of discrimination yet, we are marching closer and closer to this historic pinnacle of shame. The breadth of the executive order is broader than even the more pessimistic of us anticipated. It blocks from entering the United States the following categories of foreign nationals:
Immigration Categories Affected by Executive Order
Lawful permanent Residents!! (those with the right (previously) to permanently reside in the United States and become U.S. citizens after 3 to 5 years);
Immigrant Visa Holders (those with the right to become Lawful Permanent Residents of the U.S. upon entering the U.S., which had already been authorized by issuing them an immigrant visa)
Nonimmigrant visa holders – Individuals who have (or had) the right to reside in the U.S. for a defined period of time (this includes students, professionals, scientists, business owners, and many other categories)
Refugees – Individuals we have determined face a high likelihood of harm if returned to their home country. Refugees go through a rigorous vetting process lasting years, after they are determined to be refugees, in order to gain entry into the U.S.
Any other immigration category, if the person holds a passport from one of the countries listed below.
Designated Countries of the Executive Order
Iran
Iraq
Libya
Somalia
Sudan
Syria
Yemen
This ban on whole nationalities is particularly disturbing and unlawful, given that the Supreme Court established in 1965 that nationality discrimination is unlawful and completely at odds with the fundamental equality and equal protection principles this country was based on.
We are officially in dark times. Time to speak out, protest, and support those who are being targeted by these unlawful executive actions. If you think history is not going to condemn this new period of American devolution, think more.



Photo Credit: -»james•stave«- Flickr via Compfight cc